Website updated 16.04.2021

Watton twinned with Weeze, Germany
There are three tiers of local Government, each with different responsibilities.
The Town Council works with Breckland District Council and Norfolk County Council 
Watton Town Council was saddened to hear the announcement from Buckingham Palace of the death of Prince Phillip.
For information regarding books of condolence and tributes please visit:
https://www.norfolk.gov.uk/what-we-do-and-how-we-work/councillors-meetings-decisions-and-elections/civic-dignatories/lieutenancy
or
To be held virtually on Zoom
Meeting ID: 894 1306 6269                  Passcode: 896862
Council News:
Following the successful installation of the new equipment for younger children at the Bridle Road Play Area the Town Council is now looking at S106 funding for further facilities for the older age group at the site. The Town Council would like to enhance the area to cater for all family members to use once lock down is lifted. Bridle Road Open Space is already a lovely area for families to visit but it could be even better! More information to follow asap.
Other Information:
Watton Medical Practise has asked that the over 50's be reminded that flu jabs are still available at the surgery.
COVID-19
Councillors and staff at WATTON Town Council advise all members of its community to follow the latest government guidance regarding coronavirus: https://www.gov.uk/coronavirus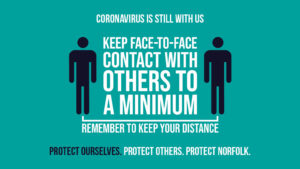 The Town Council is taking telephone and email enquiries, but face-to-face enquiries have been suspended for the foreseeable future.
Office Opening hours – For information on the Town Council office opening hours please use the "Home – About Watton Town Council" menu tab.
Events – Due to the current circumstances the Town Council made the difficult decision to cancel all events for 2020 – including the Fireworks, Remembrance Parade and Festive Christmas Market – for more information please visit the "Events" menu tab.
Support – Support For Residents
TC Meetings – information regarding Town Council meetings please use the "Meeting Dates 20-21" menu tab.
Emergency Contacts – A list of useful contacts in case of an emergency see  link: Be better prepared for any emergencies
Watton Town Council Mayor 2019-20 and 2020-21
Pat WARWICK has been elected as Chairman and Mayor of Watton until May 2021.
Jane FOUNTAIN continues as Vice-Chairman.