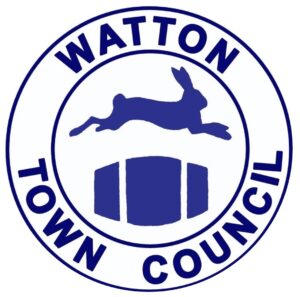 Watton twinned with Weeze, Germany
There are three tiers of local Government, each with different responsibilities.
The Town Council works with Breckland District Council and Norfolk County Council 
Please also keep an eye on our Recent Posts Section for updates
Top News 
Food Hub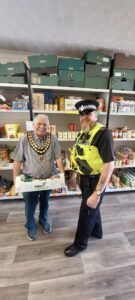 The Watton Food Hub were very pleased to be visited by PC Austin Clarke and the Breckland B1 Safer Neighbourhood Team with a fantastic donation of food for the Food Hub. A huge thank you to the Norfolk Constabulary Control Room staff who made the donation.
#lovewayland #wattonfoodhub #nourishingnorfolk
Town Mayor 2023/24
Councillor Peter Bishop was elected as the Chairman and Town Mayor of Watton for the year 2023/24. Peters chosen charities are the Watton Food Hub and The Charlotte Harvey Trust.
Councillor Don Saunders was elected as Vice Chairman of Watton for the year 2023/24
Coronation Champion award for Watton resident
Liz Whitcher is one of 500 outstanding volunteers to be chosen as the nation's Coronation Champions.
An outstanding volunteer from Watton has been recognised by Their Majesties The King and The Queen Consort as part of the official Coronation celebrations in conjunction with Royal Voluntary Service – see more in Recent Posts.
Help and Support
Are you worried about paying your monthly bills? Help and Support
Watton Neighbourhood Plan 
Breckland Council has published the decisions by Cllr Sarah Suggitt, Executive Member for Strategic & Operational Planning:
Watton Neighbourhood Plan Regulation 16 consultation comments and legal check: Reference D21/23
1)    To confirm that Watton Neighbourhood Plan meets the requirements of the 1990 Town and Country Planning Act schedule 4B, section 6 and advise Watton Town Council to this effect.
2)    To submit Breckland Council's comments, along with the others received, under Regulation 16 of The Neighbourhood Planning (General) Regulations 2012 to the Independent Examiner as the Council's response to the Submission version of the Watton Neighbourhood Plan;
You can view this decision using the link: Decision details on public web site
GENERAL INFORMATION:
TC Meetings – information regarding Town Council meetings please use the "Meeting Dates" menu tab.
Emergency Contacts – A list of useful contacts in case of an emergency see  link: Be better prepared for any emergencies