Updated 18.09.19
Twinned with Weeze, Germany
---
Watton Town Council works with Breckland District Council www.breckland.gov.uk
and Norfolk County Council www.norfolk.gov.uk.
Local Council's Responsibilities
---
Watton Carnival 2019
The Town Council would like to congratulate and thank all those who made the 2019 Watton Carnival, held on September 15th, a successful event for the community to enjoy. The Town Council tombola stall raised £234 for the Mayor's Charities, which this year are the Loch Neaton Recreation Ground and Wayland Men's Shed. Thank you for all who supported the stall either by donating prizes, manning the stall or having a go!
Watton Town Council Mayor 2019-20
The first meeting of the newly elected Town Council for Watton was held on 14.05.19.
 Pat WARWICK was elected as Chairman and Mayor of Watton.
Jane FOUNTAIN was elected Vice-Chairman.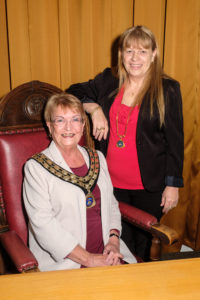 ---
Watton Festive Christmas Market 2018
Thank you to all who attended and supported this event, including all volunteers who gave their time on the day and those who financially sponsored the event.
This years event was a great success and one of the best yet! Lets think about making 2019 even better!
---