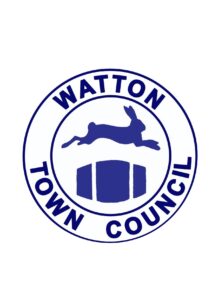 Watton twinned with Weeze, Germany
There are three tiers of local Government, each with different responsibilities.
The Town Council works with Breckland District Council and Norfolk County Council 
Top News 
(Please keep an eye on our Recent Posts Section for more updates)
Becoming a Town Councillor
Watton Christmas Lights 2022
You may have already seen, Watton Town Council's Christmas Lights contractor has begun putting up Watton's Christmas Lights.
We are doing something a little different this year, we are having rope lighting around all streetlights in the Highstreet along with Starburst lights in the tree next to JC Books. The Clock Town and the Town Hall will also be lit as previously and of course there will be a big real Christmas tree in Chaston place which will be elegantly lit. All to be ready for switch on at the Festive Christmas Market on Sunday 27th November.
Help and Support
Are you worried about paying your monthly bills? Help and Support
Watton Neighbourhood Plan 
In April 2017 the Town Council agreed to prepare a Neighbourhood Plan that will, when complete, form part of the statutory town planning framework for the area. Following a number of early consultation events and the preparation of detailed studies, we have now reached the formal "Pre-Submission" stage.
For more information please view https://www.wattontowncouncil.gov.uk/neighbourhood-plan/  
GENERAL INFORMATION:
TC Meetings – information regarding Town Council meetings please use the "Meeting Dates" menu tab.
Emergency Contacts – A list of useful contacts in case of an emergency see  link: Be better prepared for any emergencies