Website updated 14.01.22

Watton twinned with Weeze, Germany
There are three tiers of local Government, each with different responsibilities.
The Town Council works with Breckland District Council and Norfolk County Council 
Wayland Hall Works
Please accept apologies that the Town Council meetings cannot be live streamed at present due to refurbishment of the Council Chamber at Wayland Hall. Members of the public are of course welcome to attend Town Council meetings.
The works in the Chamber are being undertaken to create an area which will be shared with the Museum 4 Watton. It is exciting that this joint venture will allow the Museum to display more of the history of the town as well as providing an improved space for Town Council meetings. We are all looking forward to the completion of the work.
FUTURE BRECKLAND
Thriving People & Places" is a year-long-project and will be a significant undertaking for Breckland District Council, helping Breckland bounce back from the challenges of Covid-19 and build a strong and sustainable economy for the future.
COVID-19
Councillors and staff at Watton Town Council advise all members of its community to follow the latest government guidance regarding coronavirus: https://www.gov.uk/coronavirus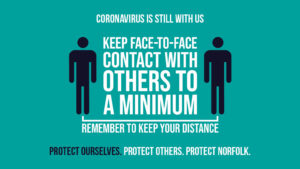 Physical Town Council meetings are now held again with the option to arrange casual face-to-face enquiries.
Office Opening hours – From May 4th 2021 it is expected that the Town Council Office will be open again on weekdays between 9.00am and 1.00pm, with face to face meetings to be arranged by appointment.
Events – It is hoped the Town Council annual events can return in 2021. Plans are underway for Fireworks Evening, Remembrance Parade and the Festive Christmas Market – more information will be available on the "Events" menu tab as soon as possible.
Support – Support For Residents
TC Meetings – information regarding Town Council meetings please use the "Meeting Dates 20-21" menu tab.
Emergency Contacts – A list of useful contacts in case of an emergency see  link: Be better prepared for any emergencies