Updated 21.03.19
Twinned with Weeze, Germany
---
Watton Town Council works with Breckland District Council www.breckland.gov.uk
and Norfolk County Council www.norfolk.gov.uk.
---
Watton Annual Town Meeting
Tuesday 16th April 2019 – The Queens Hall – Doors open from 6pm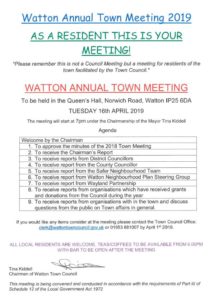 ---
May 2019 Elections
https://www.breckland.gov.uk/article/10516/District-and-Parish-Elections-2019
All Information and Nomination Packs can be found in the link above
Notice of Election – Election of Parish Councillor
---
Watton Neighbourhood Plan Questionnaires
Thank you to everyone who took the time to complete the Neighbourhood Plan (NP) Questionnaire. The analysis of the returned surveys is now being undertaken and it is hoped results will be shared at the
Annual Town Meeting on April 16th 2019.
---
Watton Festive Christmas Market 2018
Thank you to all who attended and supported this event, including all volunteers who gave their time on the day and those who financially sponsored the event.
This years event was a great success and one of the best yet! Lets think about making 2019 even better!
---