Welcome to Watton Town Council Website
Latest news: UPDATED 09.10.2017
Upcoming Events 
Annual Fireworks display – Saturday 28th October at the Wayland Showground – gates open at 4pm
The Festive Christmas Market – Sunday 3rd December in Watton High Street 1pm – 4pm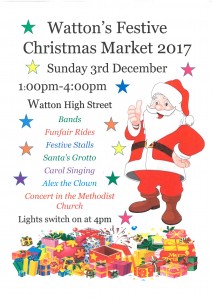 Neighbourhood Plan Community Meetings
Thursday 19th October 7pm and Thursday 26th October 7pm – Watton Christian Community Centre,, 57 High Street, Watton
Watton Neighbourhood Planning Surgery with George Freeman MP – Friday 1st December 7pm at the Queens Hall, Watton
Click here to view poster
NOTICE OF VACANCY FOR TOWN COUNCILLOR
notice posted on 9th October 2017
Notice is hereby given of a vacancy that exist for ONE Town Councillor to serve on Watton Town Council.
If you are over 18 and an elector of Watton or live within a radius of 3 miles of Watton or work or own property in Watton and you would like to be considered for the position please let the Town Clerk know via the contact alternatives given above so an application form can be provided to you. E-mail contact is encouraged.
Returned application forms will need to reach the office by 12 noon on Friday 10th November 2017
Festive Christmas Market – Sunday 3rd December 2017
If you are interested in having a stall at our Festive Christmas Market please fill out the following ENTRY FORM and STALL HOLDER RA FORM please then return it to the Town Council offices along with payment of £10.00 and your public liability insurance.
If you are collecting for a charity you will also need to complete a street collection form which will need to be returned directly to Breckland District Council. Please see link below https://www.breckland.gov.uk/article/4066/Street-Collections
Community Litter Picks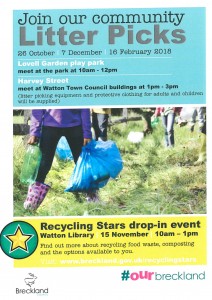 2017/2018 New Town Mayor Councillor Stan Hebborn & New Vice Chairman Councillor Tina Kiddell
At the Full Council Meeting held on Tuesday 9th May 2017 Councillor Stan Hebborn was elected as new Town Mayor for 2017/18 working along side the Mayor is the newly elected Vice Chairman Councillor Tina Kiddell.
Annual Town Meeting
Thank you to everyone who attended the successful 2017 Annual Town Meeting.
The Town Council was encouraged to see so many residents attending and it is hoped this indicates future good relationships and engagement with the local community.
All reports are available via the Annual Town Meeting tab in the menu bar.
New Play Equipment
The Town Council is pleased to announce that funding has been made available to provide one new piece of play equipment at Lovell Gardens Play Area and three pieces of outdoor gym equipment at the Bridle Road Play Area. This equipment is currently being positioned with the hope that it will ready for use very shortly.
The hedge at Lovell Gardens Play Area is also being trimmed and thus the Play Area has been temporarily closed while work is being undertaken.
The Town Council hopes all users will accept this slight disruption and that the new facilities will be made good use of once they are opened.
Contact
The Town Council would like to apologise to anyone who has tried to contact the Council via this website and may not have received a response. The Council endeavours to respond to all correspondence but it appears some e-mails have been missed.
Please continue to contact the Council via the website or directly: clerk@wattontowncouncil.gov.uk or admin@wattontowncouncil.gov.uk
The Town Council is always keen to hear from members of the public and replies should be received to any communication. If you do not receive a response via the website contact please let us know by other means.
Events 2017
Dates have been agreed for 2017 Firework display – Saturday 28th October and the Festive Market – Sunday 3rd December.
The Town Council is now receiving expressions of interest regarding stalls at both events so please contact the Office if you wish to know more.
The Town Council is also considering holding a Food Festival on July 23rd 2017.
Watton Town Council 
Twinned with Weeze, Germany
The Town Council is elected every four years with the last elections being in May 2015. The Chairman of the council is elected annually each May by fellow councillors. As well as the usual Chairman's duties, the elected person also serves as Town Mayor. The Mayor's Chain of Office carries a pendant illustrated with a rebus of the town's name.
The origins of the rebus are not certain but the picture of a hare leaping over a barrel certainly dates from the 19th century. An old Norfolk term for a hare is a "Watt", and a more ancient name for barrel is a "Tun", hence Wat – ton! The rebus is also shown in the lower part of the Watton Town Sign, located in the High Street, which depicts the local 'Babes In The Wood' fable.
Watton Town Council operates a monthly meeting structure of two Full Council meetings, one on the second Tuesday of the month and the other on the fourth. Meetings usually commence at 7pm and are held at Wayland Hall.
No meetings are held in August or December.
 All Council meetings are open to the public. Public Participation is on every agenda. During the fifteen minute window of public participation members of the public have an opportunity to address the Council.
Watton Town Council is the owner-occupier of Wayland Hall which is situated in Middle Street just off the north side of the High Street.
The Town Council Office is open between 9am and 1pm Monday to Friday.
Watton Town Council works with Breckland District Council www.breckland.gov.uk and Norfolk County Council www.norfolk.gov.uk.