Updated 14.06.19
Twinned with Weeze, Germany
---
Watton Town Council works with Breckland District Council www.breckland.gov.uk
and Norfolk County Council www.norfolk.gov.uk.
Local Council's Responsibilities
---
Watton Open Gardens & Yard Sale Weekend
Hard copies of the

Maps will be available from Tesco foyer on Saturday or Sunday and Adcocks on Saturday 15th only!

________________________________________________________________________
Watton Town Council Mayor 2019-20
The first meeting of the newly elected Town Council for Watton was held on 14.05.19.
 Pat WARWICK was elected as Chairman and Mayor of Watton.
Jane FOUNTAIN was elected Vice-Chairman.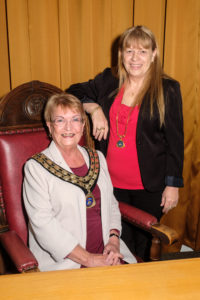 Also new for 2019 – Watton Heritage Walk led by the Town Crier
– please see recent post
---
Watton Neighbourhood Plan Questionnaires
Thank you to everyone who took the time to complete the Neighbourhood Plan (NP) Questionnaire. The analysis of the returned surveys is now being undertaken.
---
Watton Festive Christmas Market 2018
Thank you to all who attended and supported this event, including all volunteers who gave their time on the day and those who financially sponsored the event.
This years event was a great success and one of the best yet! Lets think about making 2019 even better!
---